Worried about a loved one not taking the right medication at the right time? Missing tablets or taking too many can be a real risk where a person with dementia is concerned. Pivotell has a range of pill dispensers to solve the problem. 
Caring for a loved one with dementia who lives alone can be a huge challenge for so many reasons. Ensuring the person is taking their medication regularly and in the right dosage and at the right time can be a huge challenge. Even if you live with your loved one, it can be difficult if you're going out to work and they need to be taking medication at certain times when you're not around.
Sadly, dementia is a progressive condition and the person will gradually become more confused where daily tasks are concerned. There will come a time when it's not safe for them to take medication unsupervised unless there is a guaranteed way to ensure they can only access what they need. Even a dosset box with different days of the week can be confusing, as the person may not know what day of the week it is. A safer and more practical solution is to use an automatic pill dispenser.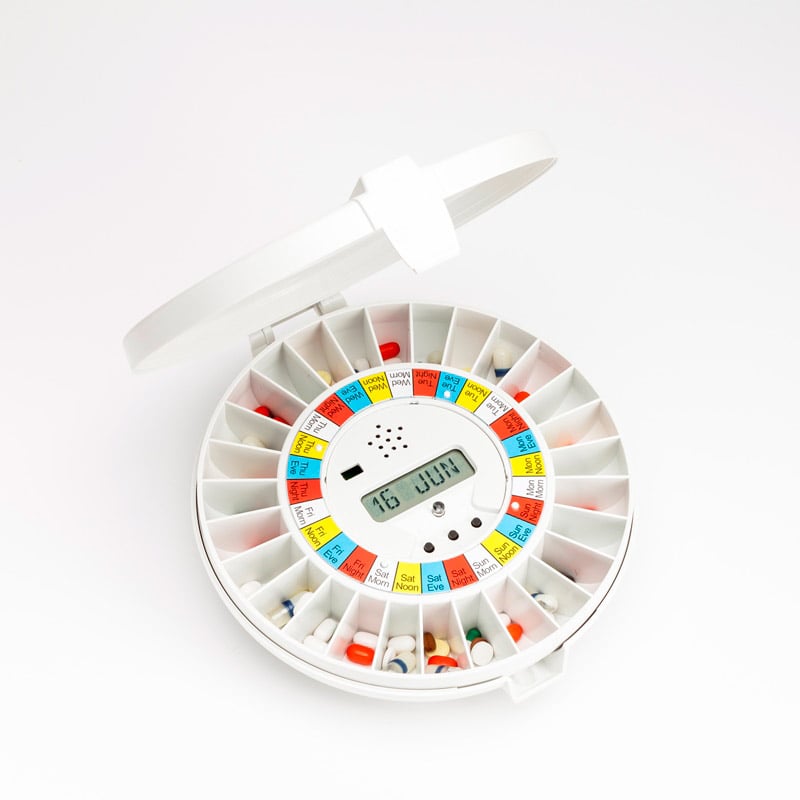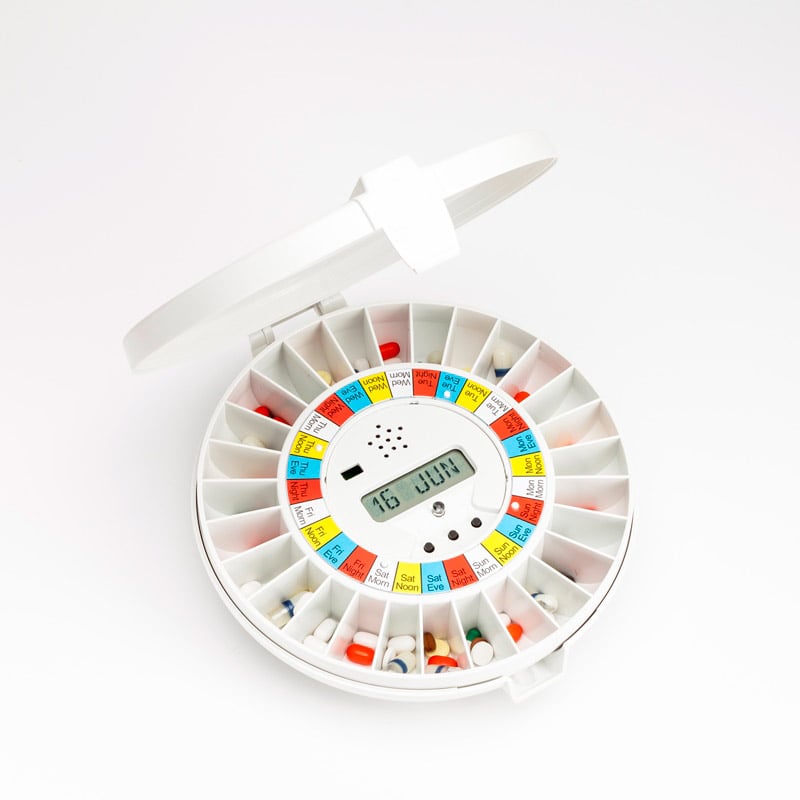 Healthcare company Pivotell offers a range of pill dispensers ideal for a person living with dementia. The company was formed after founder Caroline Milne's mother was diagnosed with Parkinsonism and Lewy Body Dementia in 2000. In the early stages of her illness, Caroline's mum managed to take her tablets using a dosset box but grew increasingly confused about what to take and when. In need of a pill dispenser that would dispense the correct medication when required, Caroline found a supplier who could help, and Pivotell has gone to help many others in a similar situation.
Pivotell products are now widely used by health and social care professionals as part of a care package for vulnerable older people. So what are the products and how do they work?
Taking the right pills at the right time
Pivotell's automatic pill dispensers and reminders are highly effective in helping vulnerable adults remember to take their medication. Their use often results in improved health, more independence and a better quality of life.
As well as benefiting those living with Alzheimer's and dementia, the product range is also used by people with mental health issues and learning difficulties who have to take many different tablets per day.
How the dispensers work
The Pivotell Mk3/11 and Advance automatic pill dispensers remind the user to take their medication by means of an alarm and flashing light. They will make the required dose available at the correct time of day or night, while keeping other pills locked and out of sight. For added security, a self-locking shutter over the lid opening on the Advance model prevents access to the medication tray except at alarm time. This prevents the possibility of double dosing or the forced movement of the medication tray by the user.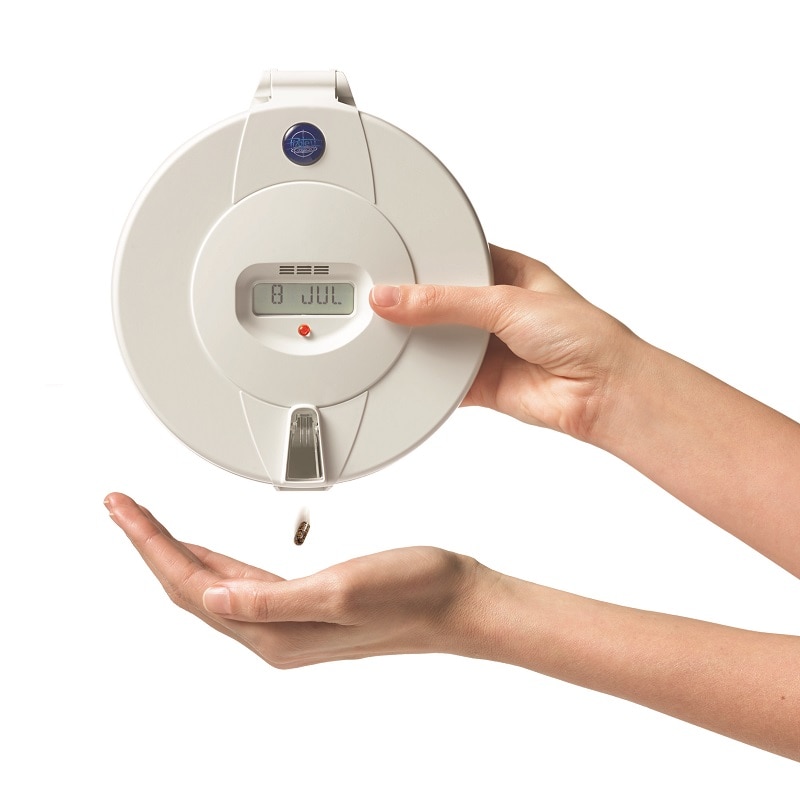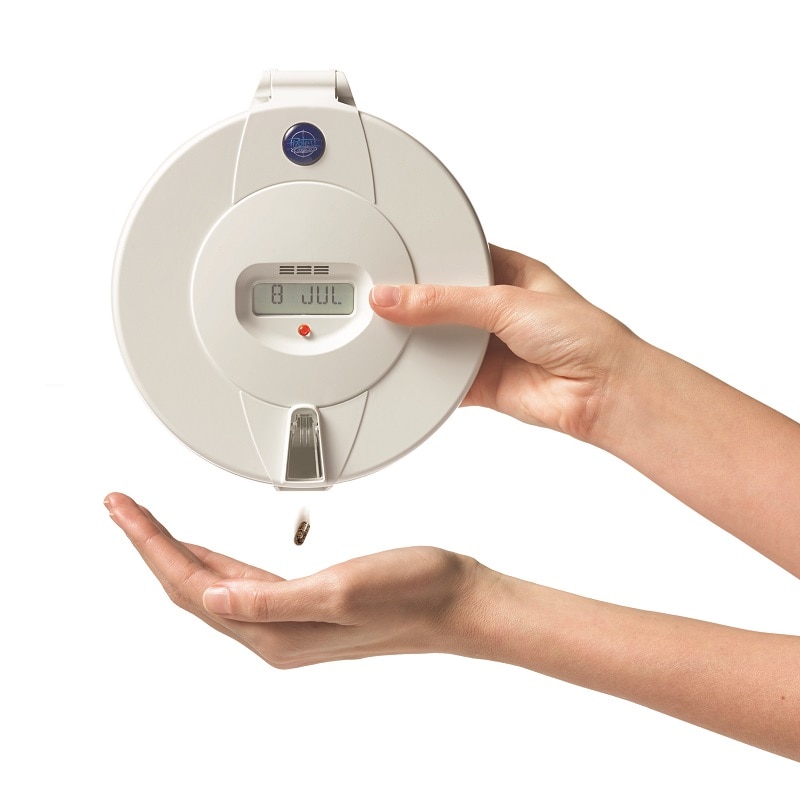 The Advance model is also available with a GSM module allowing the dispenser to send messages via SMS, email or the Jointly app by Carers UK. This dispenser works in the same way as the Advance model but has the added benefit of sending text/email/app messages to up to three family members or carers to confirm that medication has or has not been dispensed from the device at the prescribed time. If necessary, this enables a carer to check on the wellbeing of the user before a potentially adverse event occurs.
Examples of messages the GSM dispenser sends are:
Dose dispensed
Dose not taken
4 doses only remaining in the medication tray
Dispenser has been left upside down
Low battery
Safe and hygienic
All Pivotell automatic pill dispensers now have an antibacterial silver ion technology in the plastics to provide protection against harmful microbes such as bacteria and viruses. This technology significantly decreases microbes including E.coli and MRSA in just 15 minutes, with reductions of up to 99.5 per cent achieved in two hours. It works continuously for the lifetime of the dispenser, protecting against all bacteria and mould. Pivotell dispensers are robust, reliable and last for many years. Read what Pivotell's customers have to say…
Client Testimonials for Pivotell products…
'Bought for my father-in-law who has dementia as he was not managing to take his tablets as prescribed. We set it up with two weeks' worth of tablets (twice daily doses) and he manages well. It has a loud alarm, lockable to avoid tampering'.
'I am so happy to have the Pivotell item. I purchased it for my stepfather who has dementia and he was having so much trouble trying to remember if he had taken his medication or not. Now I can set this machine up for him and it gives us both peace of mind. To be honest it means he can stay independent a little longer and that's fantastic.  Thank you.'
'Once set up this product ensures that I never forgot to take medication again. When help was needed the support was there on the end of a quick phone call'.
Order now and save money

Pivotell has created the below offers for Dementia Help readers to take advantage of:
Offer one is a 10 per cent discount on any Pivotell product ordered by phone or online. Please quote reference DH10 when you call or enter this code when ordering online.
Offer two is a free additional spare tray kit with the purchase of any Pivotell Dispenser. Please quote reference FREETRAYOFFER when you call or enter this code when ordering online.
Please note that these are two separate offers and cannot be used together.
More information on Pivotell
For more information on Pivotell dispensers and the other products available in the range, please visit the Pivotell website or call 01799 550 979.